5th January 2015
We are pleased to announce that recording sessions are underway for a new CD of Donald Swann's Art Song Cycles. The Musical Director will be pianist Christopher Glyn who gave a highly successful concert of Swann songs at last year's Ryedale Festival. Soloists include the best of UK's interpreters of song including baritone Roderick Williams and soprano Felicity Lott. A tenor will be announced shortly.
Donald, though known primarily for the comic songs he wrote with Michael Flanders, set to music poems and lyrics throughout his life. Mostly love songs early on and, in later years, sustained settings of Victorian verse. In addition to the well-known influences of his inherited Russian music and acquired Greek songs, he is very much an inheritor of the English vocal tradition of Quilter and Warlock, but with the unmistakeable Swann voice veering from Romantic yearning to infectious melody. Known and loved only by a handful of singers and fans, these songs - most of them receiving their first commercial release - deserve a wider hearing.
The content, yet to be finalised, will include: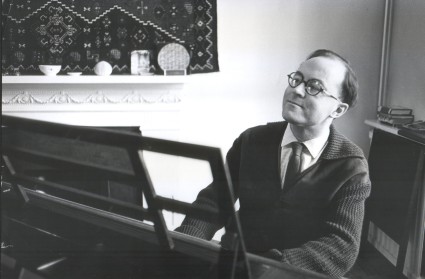 Six settings of William Blake
Five Colourisations of Emily Dickinson
Two sonnets by Edna St Vincent Millay
A Collection of four songs by John Betjeman
A Victorian Song Cycle by Tennyson
Two settings by Christina Rossetti
Two Settings of Thomas Hardy
'The Harlot's House' by Oscar Wilde
Two Songs from Swann's Tolkien Cycle:
Luthien Tinuviel & 'Bilbo's Last Song'
Early Songs:
My Love's Like a Red, Red Rose (Burns)
Youth of the Heart (Sydney Carter)
I Loved You Once (Pushkin/Marsh)
Dark Rose of My Heart (Scarfe)
Later Songs:
Arcades (Milton)
Raiders' Dawn (Alun Lewis)
He Wishes for the Cloths of Heaven (WB Yeats)
And more!
Check this page for updates.
16th July 2014, 6.30pm.
Pre Concert Talk – The Music and Life of Donald Swann
The Saloon, Duncombe Park
Leon Berger, Donald Swann's archivist, introduces the life and music of Donald Swann.
This is a Free Event but booking is neccessary
16th July 2014, 8pm.
Under the Hat! A celebration of the music of Donald Swann
The Saloon, Duncombe Park
Donald Swann will forever be remembered as one half of the popular comic song-writing duo Flanders and Swann, whose performances and recordings of such immortal numbers as The Hippopotamus Song and The Armadillo have delighted generations of listeners. Alongside some of their best-loved numbers this concert also explores the more serious and much less well-known side to Donald Swann's composing career, especially the gift for melody and colourful harmony that is found in his songs – settings of poets such as Blake, Emily Dickinson and Tennyson which are full of charm and sensitivity, sometimes exotic, and always touching. The ticket for this event includes the pre-concert talk.
See the Ryedale Festival page for the full programme and tickets.
On 12th October 2013 The Battersea Society unveiled a blue plaque to Donald Swann at his former home, 13 Albert Bridge Road. A small ceremony was hosted by Donald's widow, Alison Swann-Smith, with talks and musical presentations by his Archivist Leon Berger and his daughter Natasha Etheridge. The ceremony was attended by the Mayor of Wandsworth, Angela Graham, and MP Jane Ellison. Also present was Donald's fellow-composer Joseph Horowitz, who was joined by members of the Flanders & Swann Web Forum and a crowd of friends and neighbours.
Click on the photograph for a bigger version.
On Monday 28th September 2010 Radio 4 transmitted a play about Gerard Hoffnung to commemorate the 50th anniversary of his death, called HOFFNUNG: DRAWN TO MUSIC.
The director was Lissa Evans and it had a stellar cast with Matt Lucas as Gerard, Gina McKee as Annetta Hoffnung, Stephen Boswell as Donald Swann, Jon Glover as John Amis and Roy Plomley, Nicholas Jones as Malcolm Arnold and Hugh Bonneville and Felicity Montacu as a Pooterish drummer and his wife. Apparently the recording session finished early and the cast spent the last 20 minutes trying to play the bottles for Donald's Surprise Symphony.
On 25th & 26th June 2009 the Oxford C.S. Lewis Society & The Donald Swann Estate presented:
Music by Donald Swann & Libretto by David Marsh
Based on the book by C.S. Lewis

The opera was written in collaboration with C.S. Lewis between 1960 and 1964. The sale of the film rights shortly after Lewis' death, however, placed a long-term embargo on its performance. The opera has now had its long-awaited second premiere, performed in its original, three-act version as a 'theatrical oratorio'.
Contains:
The original mono recording of 'At The Drop Of A Hat' album from 1957 – first time on CD!
the BBC recording 'And Then We Wrote' – first time on CD!
Live HAT tracks from around the world.
EPs, out-takes and private tapes.
Packaged in a clamshell box, containing a 36-page booklet with track by track annotation and a 28-page lyrics booklet, illustrated. 3 CDs in jewel boxes and a fourth in a pouchette.
Details on F&S CD PAGE