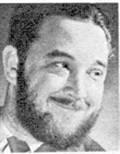 Michael Henry Flanders was born in North London, on 1st March 1922, to theatrical and musical parents. He was educated at Westminster School where he shone in athletics, rowing and, especially, school dramatics. In his last term he devised, wrote, directed and acted in a school revue GO TO IT!, asking a talented contemporary, Donald Swann, to provide the music. In 1940 Michael went to Christ Church, Oxford to read history. There he both acted and directed for the O.U.D.S. and the Experimental Theatre Club, playing among other roles Brabantio in OTHELLO, Pirandello's HENRY IV and Shawcross in THE ASCENT OF F6. He made his first major professional appearance on the stage, in October 1941, at the Oxford Playhouse as Valentine in Shaw's YOU NEVER CAN TELL. Handsome, athletic, standing over six foot, contemporaries expected him to become the next Olivier or the Robert Donat of his generation.
He left Oxford to join the RNVR, and in 1943 contracted poliomyelitis, and consequently spent the rest of his life in a wheel chair. Unable to return to Christ Church to continue his studies, he found work on the radio and rapidly became a prolific broadcaster making good use of his velvet-brown voice. A chance re-meeting with Donald Swann in 1948 led to their collaboration on material for Laurier Lister's revue ORANGES & LEMONS and for the next eight years they together wrote substantial portions of half a dozen major West End REVUES.
In 1953 Michael was commissioned by the Intimate Opera Company to provide the libretto for a comic opera, THREE'S COMPANY, to music by Antony Hopkins and the following year they repeated their success with CHRISTMAS STORY; both operas were televised, but CHRISTMAS STORY was never published or recorded. Also in 1954 he translated, with Kitty Black, Stravinsky's THE SOLDIER'S TALE for the Edinburgh Festival – this has now become the standard translation and been recorded many times.
When Michael and Donald decided to hire the New Lindsey Theatre in December 1956 to perform their own material, it was Michael's first professional appearance on the stage since contracting polio. Michael advanced the cause of the disabled by lobby and by example, and possessed the remarkable skill of putting others at ease about his predicament whatever his immense personal difficulties. AT THE DROP OF A HAT opened for a three week run on New Year's Eve 1956 but then transferred next month to the Fortune Theatre, where it ran for nearly 2½ years. 'Flanders and Swann' were now household words and their RECORDINGS, produced by George Martin, were best-sellers. In October 1959 they took the show to New York, where it repeated its London success and that Christmas Michael had a top-twenty hit in the pop charts with his rendition of Little Drummer Boy. Also in December of that year Michael married Claudia Davis, the daughter of journalist Claud Cockburn and stepdaughter of Professor Robert Gorham Davis, Professor of English Columbia University. Claudia's mother, Hope Hale Davis, has published memoirs of her extraordinary political life during Claudia's childhood A GREAT DAY COMING. Michael and Claudia had two daughters, Laura (1961) and Stephanie (1968).
The HAT show toured widely through the United States and Canada during 1960-1. As critic, and friend, Michael Meyer says, "The combination of Flanders's genial yet caustic lyrics and Swann's witty and tuneful music, and the contrast between Flanders's robust exuberance and the prim appearance of Swann, exerted a seemingly universal appeal." Michael's lyrics are, arguably, the wittiest and best crafted the musical stage had heard since those of W.S.Gilbert.
In 1962 Michael appeared at the Aldwych Theatre, in his wheelchair, as the Story Teller in the Royal Shakespeare Company's production of Brecht's THE CAUCASIAN CHALK CIRCLE. AT THE DROP OF A HAT resumed touring the UK and Ireland in 1962-3; then in October 1963 Flanders & Swann appeared at the Haymarket Theatre, London, in AT THE DROP OF ANOTHER HAT, which proved as successful as its predecessor. In January 1964 Michael was awarded an OBE in the New Year's honours list - later that year Donald and he toured a combined version of the two "Hat" shows through Australia, New Zealand and Hong Kong, then re-opened AT THE DROP OF ANOTHER HAT at the Globe Theatre, London. The HAT finished its journey on Broadway in April 1967
In 1968 Michael appeared at the Queen Elizabeth Hall, London, as the Narrator in THE SOLDIER'S TALE, and in 1970 at the Mayfair Theatre in a revue, TEN YEARS HARD. That year saw the premier of his well-loved cantata for children, CAPTAIN NOAH & HIS FLOATING ZOO, written with composer Joseph Horovitz. Michael was often seen on the concert platform in such works as FACADE and PETER AND THE WOLF, and especially enjoyed working on radio in documentaries like the SCRAPBOOK series and BATTLE FOR ATLANTIC as well as lighter quiz shows like TWENTY QUESTIONS, and ANIMAL, VEGETABLE & MINERAL. On television he linked the popular arts magazine GALA PERFORMANCE for many years and narrated the celebrated 1969 TV documentary on the ROYAL FAMILY – children of the 1970s will remember his voice on the soundtrack of the BARBAPAPA animated cartoon series. He also appeared in two films, notably DOCTOR IN DISTRESS (1963) and THE RAGING MOON (1971) – the latter released as LONG AGO TOMORROW in the US.
Michael died suddenly of an aneurism on 14th April 1975 while on holiday at Betws-y-Coed in Wales. His ashes were scattered in the grounds of Chiswick House, London, where he had loved to sit on afternoons. Michael's memorial was held at St Martin's in the Field on 14th June 1975.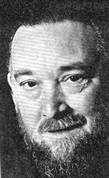 After Michael's death Claudia was asked to open the 'Michael Flanders Centre' in Acton and founded the charity TRIPSCOPE to champion better transport and access for the disabled. For her tireless efforts she was awarded an OBE. Claudia died in 1998 aged 65. Laura and Stephanie Flanders are both accomplished journalists and broadcasters and reside in New York.
RECORDINGS: FLANDERS & SWANN
RECORDINGS: MICHAEL FLANDERS
MUSIC & LYRICS: MICHAEL FLANDERS
MUSIC & LYRICS: FLANDERS & SWANN